ECODrive Public technical course:
The ECODrive consortium is hosting a technical course during their technical training and GA/SB meeting weeks. The agenda as well as all necessary information can be found below. 
The event is held online. Discord will be used as an online platform where the participants can meet also outside of the course hours. The links to the respective technical sessions will be posted there. Please mark the dates of the course in your agenda since you won't receive a separate invite. 
| | |
| --- | --- |
| Title of the course: | Modelling, Simulating and testing of powertrains and gears: A public technical course on a  suite of theory, practical techniques and approaches |
| Organizer:       | KU Leuven, Siemens PLM software |
| Date: | 9-10/02/2022 (Block 1) and 14-15/02/2022 (Block 2) |
| Format: | Online |
| Registration deadline:    | 08/02/2022 |
| Costs: | free of charge |
| Registration link: | https://discord.gg/vbnhthSVhR |
In case you can't access the webpage or your institutional firewall blocks it please try the following.
Navigate to: Discord | Your Place to Talk and Hang Out
Click on: Open Discord in browser and give yourself a username
Use the following invite: vbnhthSVhR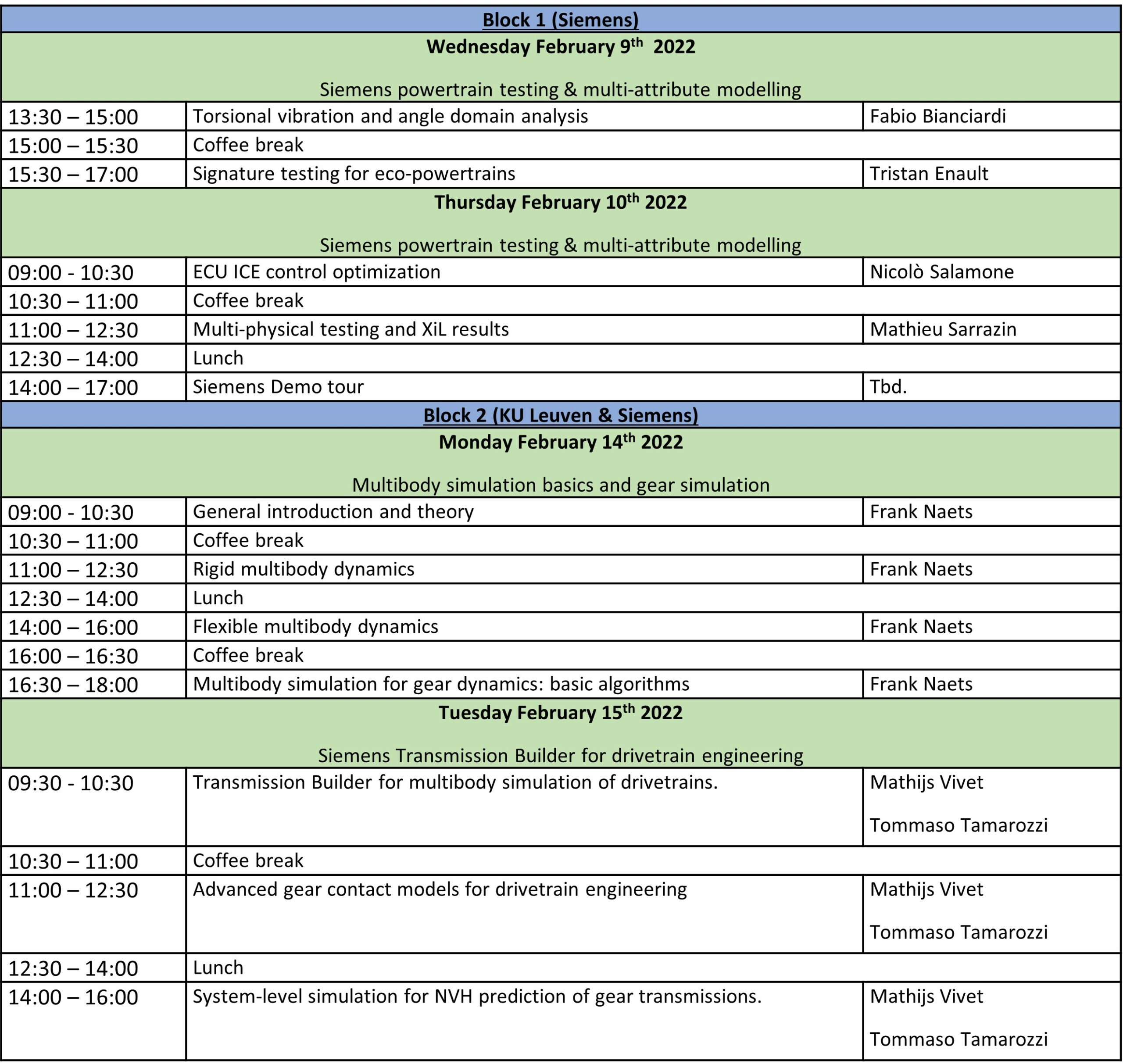 Position of the lecturers
| | |
| --- | --- |
| Fabio Bianciardi | Senior research engineer at the Test division of Siemens Digital Industry Software. Experience in NVH testing and analysis with specific focus on Transfer Path Analysis and torsional vibrations. |
| Tristan Enault | Product manager for Simcenter Testlab rotating machinery. About 10 years of experience in vehicle NVH testing with strong focus on torsional vibrations, combustion analysis and driveline low frequency behavior. |
| Mathieu Sarrazin | Research & innovation manager at Siemens Digital Industries Software with a main focus on Mechatronic System Testing and Simulation Technologies. |
| Nicolò Salamone | PhD research fellow at Siemens Digital Industries Software and KU Leuven. Experience in combustion engine and powertrain calibration. His primary research activity focuses on the development and validation of multi-objective models for eco-powertrain performances optimization. |
| Frank Naets | Assistant professor at KU Leuven. Research focus on Multibody modelling, model order reduction and virtual sensing. |
| Mathijs Vivet | Research engineer within the Simcenter 3D Motion RTD team at Siemens Digital Industries Software, where he focuses on the solver method developments for bevel and hypoid gears and supports method development for other drivetrain elements. He obtained his PhD on the topic of advanced techniques for numerical tooth contact analysis in spiral bevel gears at KU Leuven and University of Calabria. |
| Tommaso Tamarozzi: | Senior Research Engineering Manager at Siemens PLM software. Experience in numerical flexible multi body, contact mechanics, drivetrain and power train dynamics, virtual sensing, Kalman filtering, model order reduction, vehicle dynamics and NVH testing. |